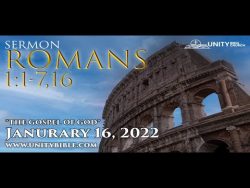 ROMANS – FOUNDATION OF THE FAITH – THE GOSPEL OF GOD – ROMANS 1: 1-7,16
January 17, 2022
Sermon from January 16, 2022 by Pastor Bill Walker of Unity Bible Church, Lewiston, ME. This is the 2nd sermon from our Sunday Morning Service in our series "The Foundation of Faith." This week's sermon is entitled "The Gospel of God" it is from Romans 1:1-7,16.
Paul begins his Magnum Opus with an explanation of "the gospel of God" (vss. 1-4). What a powerful way to being this letter. In fact, it is so powerful that if you will hear and heed what he proclaims you can be saved! Saved from the curse and guilt of your SIN! Saved from the fear of DEATH and hell. Saved from the mastery and tyranny of the DEVIL in your life! WOW. What a great way to begin this study. Pray for your heart before you view this message… may the God of grace include you among His eternal children!
At Unity Bible Church, our vision is to see God glorified through our worship of Him, building up believers, and sharing the Good News of Christ.