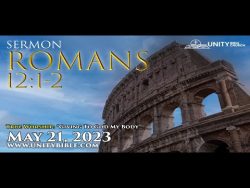 ROMANS – FOUNDATION OF THE FAITH – TRUE WORSHIP:GIVING TO GOD MY BODY – ROMANS 12:1-2
May 22, 2023
Sermon from May 21, 2023 by Pastor Bill Walker of Unity Bible Church, Lewiston, ME. This is the 64th message from our Sunday Morning Service in our series from the book of Romans "The Foundation of Faith." This Message was entitled "True Worship:Giving To God My Body."
As we focus on being "a living sacrifice" we have considered the first act of true worship and that is to give to God our SOUL… our very life itself. Having done that… it means that God now has complete control over my BODY! Romans 12:1-2 What does that mean? What does that look like? That is TODAY's teaching.
At Unity Bible Church, our vision is to see God glorified through our worship of Him, building up believers, and sharing the Good News of Christ.