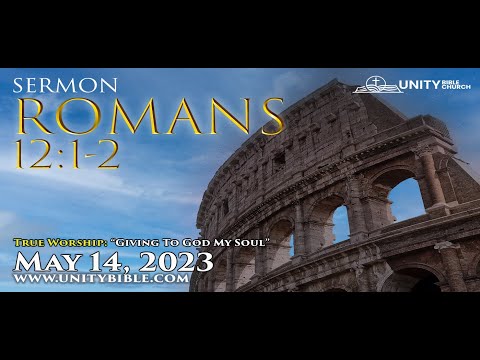 ROMANS – FOUNDATION OF THE FAITH – TRUE WORSHIP:GIVING TO GOD MY SOUL – ROMANS 12:1-2
May 16, 2023
Sermon from May 14, 2023 by Pastor Bill Walker of Unity Bible Church, Lewiston, ME. This is the 63rd message from our Sunday Morning Service in our series from the book of Romans "The Foundation of Faith." This Message was entitled "True Worship:Giving To God My Soul" It is from Romans 12:1-2.
In this message we focus on being "a living sacrifice" we will consider the first act of true worship, the beginning of the Christian life, that which makes one a child of God and that is to give to God our SOUL… our very life itself. Romans 12:1-2.
At Unity Bible Church, our vision is to see God glorified through our worship of Him, building up believers, and sharing the Good News of Christ.