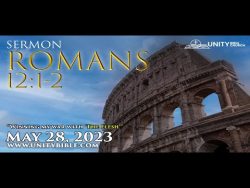 ROMANS – FOUNDATION OF THE FAITH – WINNING MY WAR WITH THE FLESH – ROMANS 12:1-2
May 30, 2023
Sermon from May 28, 2023 by Pastor Bill Walker of Unity Bible Church, Lewiston, ME. This is the 65th message from our Sunday Morning Service in our series from the book of Romans "The Foundation of Faith." This Message was entitled "Winning my War with "The Flesh.""
Continuing our message from last week… "Giving to God my BODY" we discovered the great challenge in that… we have a redeemed SOUL dwelling in an unredeemed BODY! Today, we will talk about "Winning my war with 'the FLESH'". This is the greatest struggle of the Christian life – it is what our sanctification is… learning to consistently say, "NO!" to my ever resident willful desires and say, "YES!" to the Holy Spirit. Get ready to rumble!!!
At Unity Bible Church, our vision is to see God glorified through our worship of Him, building up believers, and sharing the Good News of Christ.