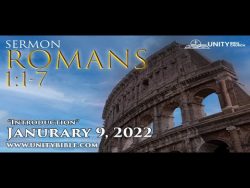 ROMANS – INTRODUCTION – ROMANS 1:1-7
January 10, 2022
Sermon from January 9, 2022 by Pastor Bill Walker of Unity Bible Church, Lewiston, ME. This is the1st sermon from our Sunday Morning Service on Romans.
We begin our expository study in the book of Romans. We will do some basic spade work of… Author, Recipients, Reason for the Letter. Join us as we begin climbing the "Mount Everest" of biblical faith, one step at a time.
At Unity Bible Church, our vision is to see God glorified through our worship of Him, building up believers, and sharing the Good News of Christ.