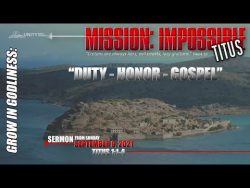 TITUS – GROW IN GODLINESS – DUTY HONOR GOSPEL – TITUS 1:1-4
September 9, 2021
Sermon from September 5, 2021 by Pastor Bill Walker of Unity Bible Church, Lewiston, ME. This is the2nd sermon from our Sunday Morning Service on the pastoral epistle,Titus.
Through an extended introduction, the Apostle Paul seeks to encourage and embolden Titus for his mission. (Titus 1:1-4). Paul, makes it clear that his life and that of Titus' do not belong to them but rather to Christ and His mission. The rallying call to a life of service and hardship is one of duty, honor, and the Gospel!
At Unity Bible Church, our vision is to see God glorified through our worship of Him, building up believers, and sharing the Good News of Christ.