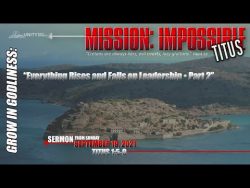 TITUS – GROW IN GODLINESS – EVERYTHING RISES AND FALL ON LEADERSHIP-PART 2 – TITUS 1:5-9
September 20, 2021
Sermon from September 19, 2021 by Pastor Bill Walker of Unity Bible Church, Lewiston, ME. This is the 4th sermon from our Sunday Morning Service on the pastoral epistle,Titus.
In this Sermon our focus will be on the character of those men who would make for Biblical Elders. (Titus 1:5-9) The primary issue is one of maturity in Christ – not gifting, knowledge, theology, or calling but a life that reflects Christ-likeness… without which the other aspects don't matter.
At Unity Bible Church, our vision is to see God glorified through our worship of Him, building up believers, and sharing the Good News of Christ.