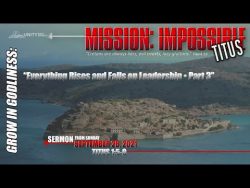 TITUS – GROW IN GODLINESS – EVERYTHING RISES AND FALLS ON LEADERSHIP-PART 3 – TITUS 1:5-9
September 27, 2021
Sermon from SEPTEMBER 26, 2021 by Pastor Bill Walker of Unity Bible Church, Lewiston, ME. This is the 5th sermon from our Sunday Morning Service on the pastoral epistle,Titus.
Having considered the Elder's observable character (his relationship with his wife, children, and others) we now consider his ability to handle God's word… "that he may be able to give instruction in sound doctrine and also to rebuke those who contradict it." (Tit. 1:9)
At Unity Bible Church, our vision is to see God glorified through our worship of Him, building up believers, and sharing the Good News of Christ.